Answers to your frequently-asked questions about Parent Hub Payments.
Setting up a Parent Hub Payments account
How long does it take to get everything set up?
Usually about 10 minutes. You'll need to enter some details about the Account Representative – this is the person (usually School Business Manager or Headteacher) who will be legally responsible for the account and any funds sent or received.
Is there a setup fee?
No – setup, training and lifetime support are all completely free.
Can I set up more than one account?
Schools on a Plus or Pro

plans can create multiple payment accounts – for example, one for Main Budget and one for School Fund. Each account can also have its own unique chart of accounts. Each time you create a payment request, you can choose the account for the funds to arrive in.
Which plan is right for me?
You can add Payments to any Parent Hub plan, or your plan may already include Payments.
Free is a no-licence, no-commitment way to try our Payments feature and see how easy it is to use. It's also perfect for low transaction volumes.
Pro

is for those who need multiple accounts, have higher transaction volumes, or tend to request payment for smaller amounts.
And for anyone else, there's Plus

– a reduced licence for those who take fewer payments or tend to request larger amounts.
Using the app
How do parents pay in the app?
Parents can find payment requests by tapping Schools > student name > View payment requests. But to make life even easier, we recommend sending a payment message to parents when you create a new payment request (you'll be prompted to do this) and if you need to send a reminder. Sending a message means there'll be a link to the request right at the top of the Hub!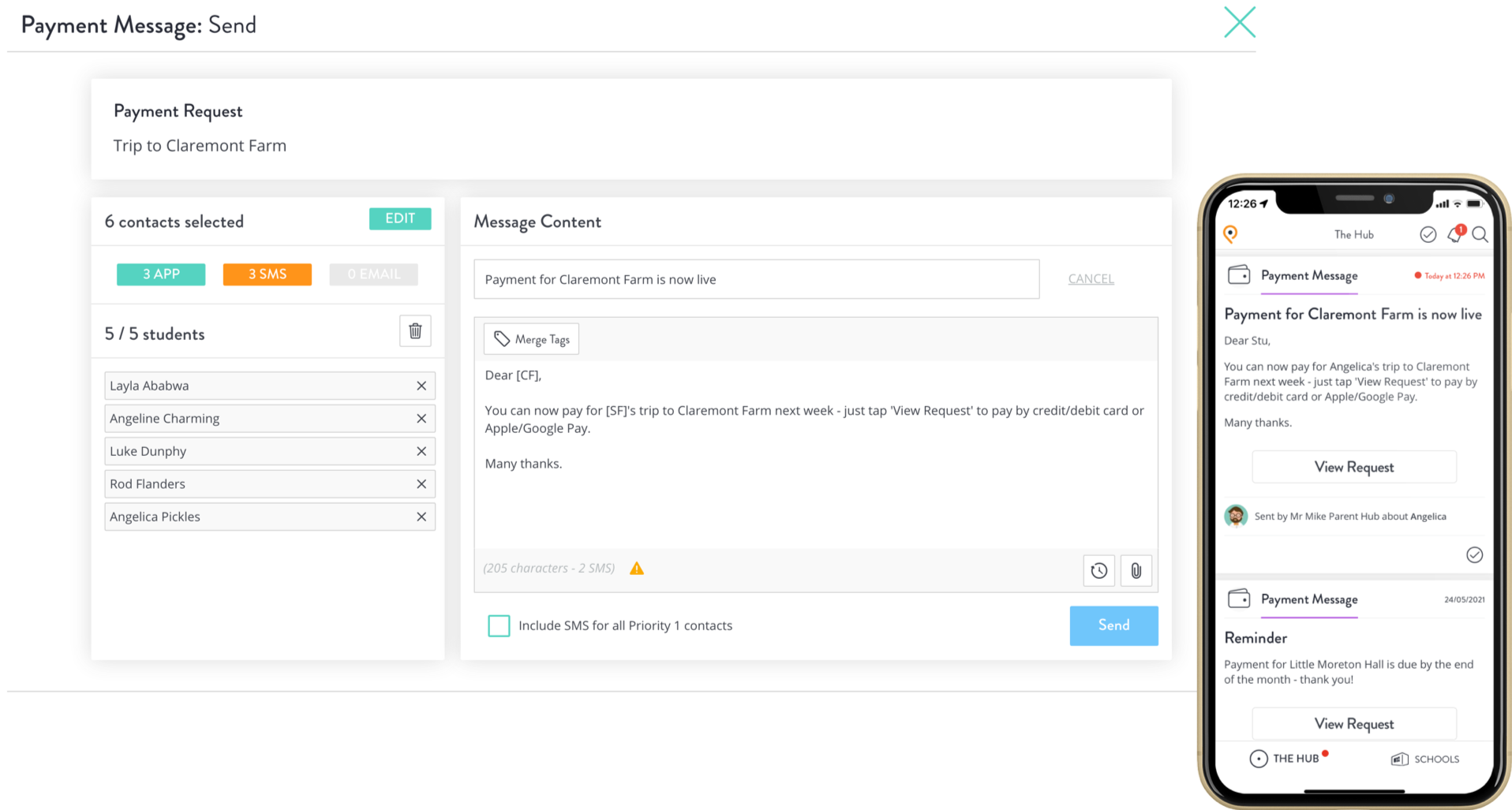 Do parents need to create a new account?
No – they'll just need to add a payment card, or tap the Google / Apple Pay button the first time they pay. Card details are securely stored by default to make payment even quicker next time (cards can be removed anytime).
Do we need to let parents know we're now using Parent Hub Payments?
It's always a good idea to keep parents informed about changes you make to the systems used in school, but no additional setup is required from parents other than adding a payment card once – and only if they don't already use Google / Apple Pay.
Receiving funds
When will I receive the funds?
Unless you've agreed specific payment terms with us, aggregated funds are paid out to your nominated bank account(s) on Tuesdays, a minimum 7 days after payment was collected.
For example, if a parent makes a payment on Wednesday, you'll receive that payment as part of your weekly payout the Tuesday after next (so 13 days later) as that is the first Tuesday which comes at least 7 days later.
Can I choose which bank account the funds arrive in?
Yes – you nominate a linked bank account when you create each payment account within Parent Hub. Each payment account can be linked to a different bank account.

In addition, you can add and remove nominated bank accounts linked to each payment account.
So when you create a new payment request, just click the payment accounts menu and pick the payment account appropriate for this request.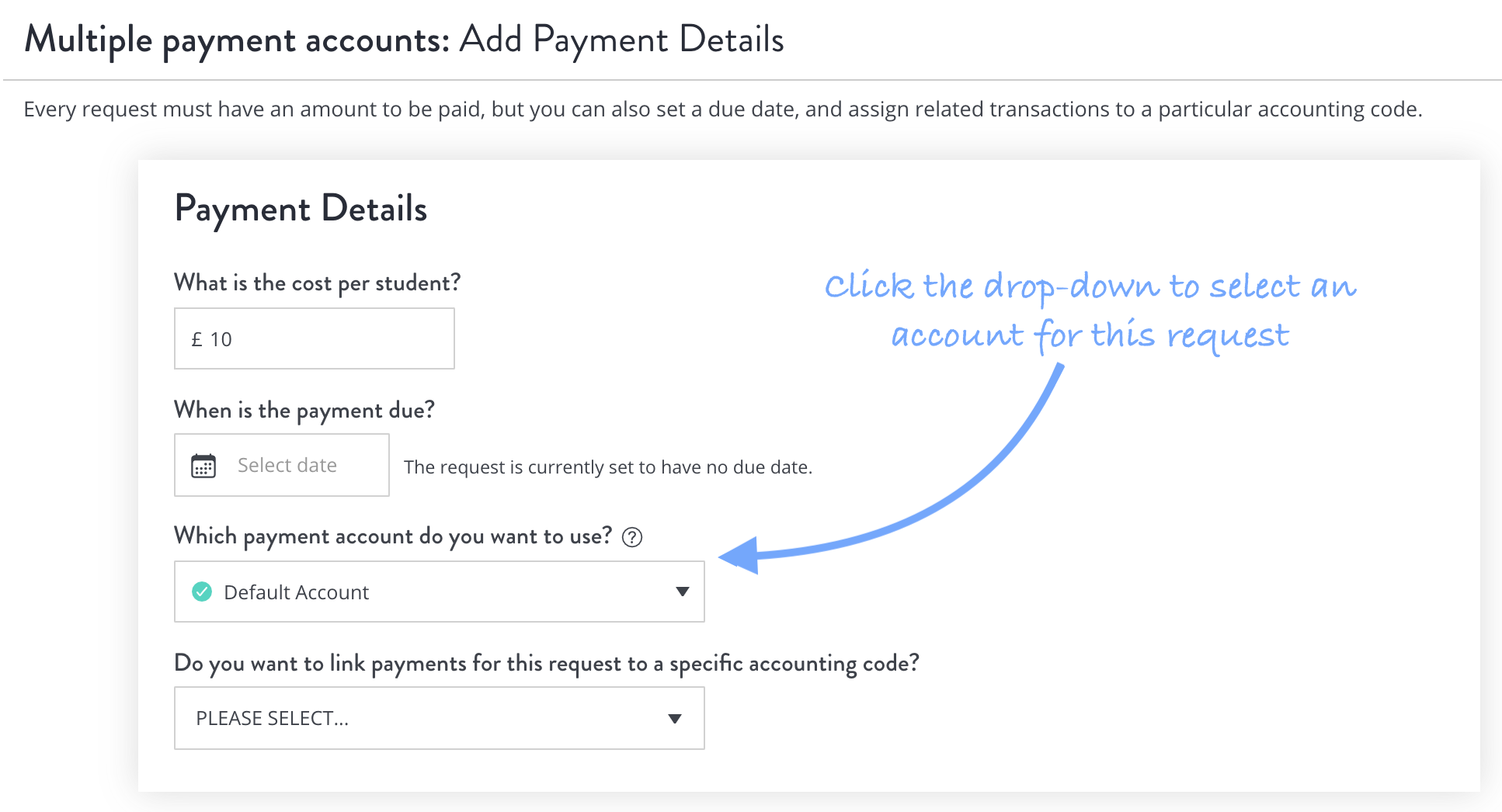 Will we be invoiced for transaction charges?
Transaction fees are deducted at source, so the funds you receive are already net of any transaction fees. You'll be sent an electronic invoice, marked as paid, each time you receive a payout from us on a Tuesday. Please keep this invoice for your records.
How will payouts appear on our bank statement?
You can add a statement reference when setting up your payment account and amend it at any time, to help you identify payouts from Parent Hub. For example, each school in your Multi-Academy Trust can have its own payout statement reference. If you don't add a reference, payouts will appear as 'Stripe Payments UK – Parent Hub Payout'.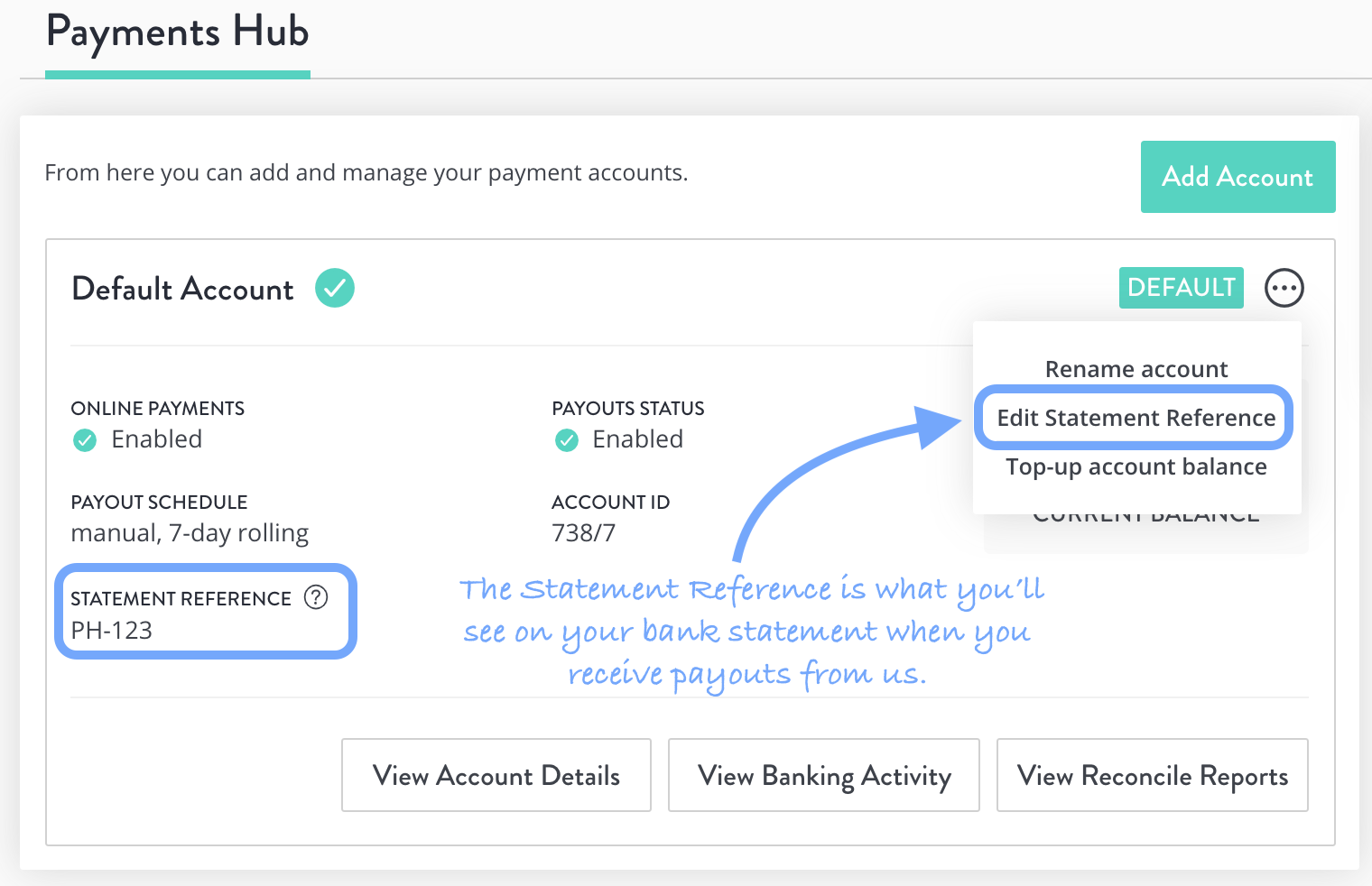 How can I see what the payout includes?
Make light work of reconciling your payouts by downloading a settlement statement each Tuesday. Just click the Actions button for the payout you'd like to reconcile, and choose Settlement Statement to create a printer-friendly PDF, grouped by request title. Head to Admin > Payments Hub > Banking Activity to download/print yours.

Refunds
How do I refund a card payment?
First, find the transaction you'd like to refund: head to the Transactions tab of the payment request you need. Then click Actions > Refund transaction. It's that simple!
How long do refunds take?
If the charge has already settled on the cardholder's account (and so is no longer showing in 'pending transactions' on their online banking system), then a refund will usually take up to 10 work days. If the transaction is still pending when it's refunded, it'll just be reversed and drop off their statement.
What if I don't have enough balance to cover the refund?
Sometimes you'll need to refund more than you have available on your balance. If this is the case, just tap 'top up balance' and let us know how much you need to add, then send the funds according to the instructions in the Portal. As soon as we receive the funds, we'll credit them to your account and let you know, so you can get on with processing your refund. The whole top-up process usually takes 1 work day, but can take up to 7 days in some cases.
Got a question we've not answered? Then why not get in touch: our Support Team would be happy to hear from you on support@parenthub.co.uk / 0161 202 4141