Please note: This guide applies only to people with the Admin privilege as part of a Parent Hub School account.
Inviting your teachers and other colleagues to join you on Parent Hub is the best way to boost the stellar work you're doing to engage parents - it gives parent communication a greater presence across your school, removes the burden of all communication coming from a single person, and means parents can be kept up to date more regularly about what their child is learning in lessons.
Staff accounts are managed in the Staff Members section, which you can access via the Dashboard under Admin, or by clicking the Features Menu icon in the top right corner and selecting it from the list of School Administration options (Admins only).
How to set up Parent Hub accounts for other members of staff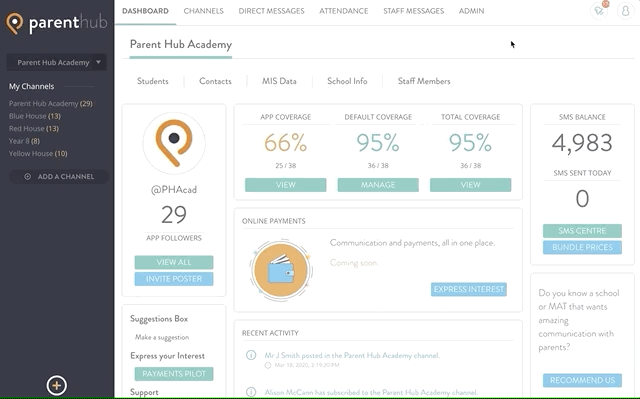 There are 2 main steps to setting up a Parent Hub account for other members of staff at your school:
1. Invite staff via email to join your school
1: In Staff Members, click on "+Add Members"
This is a green button next to the search bar above the staff members table.
2: Enter the email address of the staff member you want to invite and hit Next
We'll check to see if they're already registered and, if not, ask you for a couple of bits of info about them (like their name).
3. Click 'Send Invite'
We'll send them an email to let them know you've invited them to join your school, along with some instructions on how to sign up to Parent Hub for free.
2. Assign a role to each member of staff
1: Click on the action button for the relevant person and select a new role
You can only update staff roles in Parent Hub once a person has created an account and joined your school. At this point they'll switch from the 'Invited' or 'Requested' tab and move to the 'Registered' tab.
Initially, each new member of staff is given a Basic role. This allows them only to create their own channels, request to join any existing channels, and post messages to any channels that they're a member of. They won't have access to the Direct Messages or Staff Messages features, or any of the options in the Admin menu at the top of the Dashboard.
For help on what each of the roles can do, check out our Managing Staff Permissions guide.
Alternatively, you could ask staff to sign up to Parent Hub separately, and then request access to join your school.
When this happens, you'll receive an email letting you know, and any pending requests can be found in the 'Requested' tab of the staff members table. For each request you'll have the choice to Accept or Decline the request.
Related