Please Note: This applies only to people with admin rights over a channel in Parent Hub.
Sharing channels with other members of staff is a great way to increase the presence of Parent Hub across your school. It also helps you keep track of who's sending what, so there's no confusion or overlap with what parents are receiving.
How to add other staff to a channel so they can post messages as well

1. Select a channel
Tap 'CHANNELS' from the navigation bar, and select a channel.
2. Click on the 'Contributors' dropdown in the Channel Menu
This is found underneath the channel status icons on the righthand side of every channel.
In the expanded section you'll see a list of the current contributors, their status (admin or not), and an entry field for you to search for other staff accounts to invite.
3. Search for someone you wish to add to the channel
As you type, a list of matching results will display underneath. To add a new member of staff to the channel, just click on the '+' icon next to the name of the person you want to invite and they'll be added as 'pending'.
They'll become a channel contributor as soon as they log in and accept your invite.
NOTE: You'll only be able to search for people that are already part of your school.
4. Decide on the admin rights of each channel contributor
Admins of a channel can be identified by a purple shield icon. These people have the rights to manage the different channel settings, including inviting other contributors.
People that aren't admins of a channel are limited to posting messages only.
How staff accept a channel invite
Staff will get notified via email and in Parent Hub when they've been invited to join a channel.
From the notification they just need to tap 'Accept'. Then they're free to head over to the channel to start posting!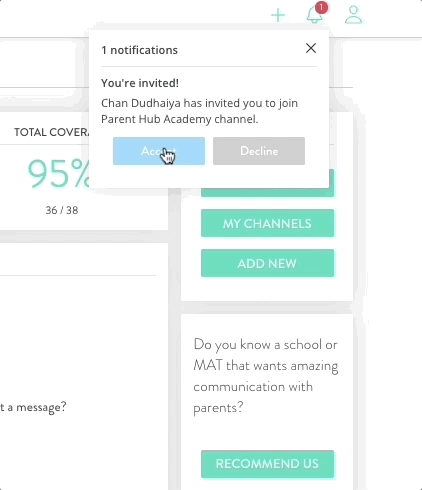 Related