Please note: This guide applies only to schools using Parent Hub linked to an MIS.
There are 3 main benefits to linking a Channel you've created in Parent Hub to a group that's in your MIS.
Firstly, it ensures that the right messages always get to the right parents! Secondly, it takes away the headache of manually updating parent contact groups at the start of a new year! And thirdly, it enables text messaging and/or email sending (both paid extras), so you can contact all your parents in one go - including those that aren't yet on the Parent Hub app.
How to link a Channel in Parent Hub to a group in your MIS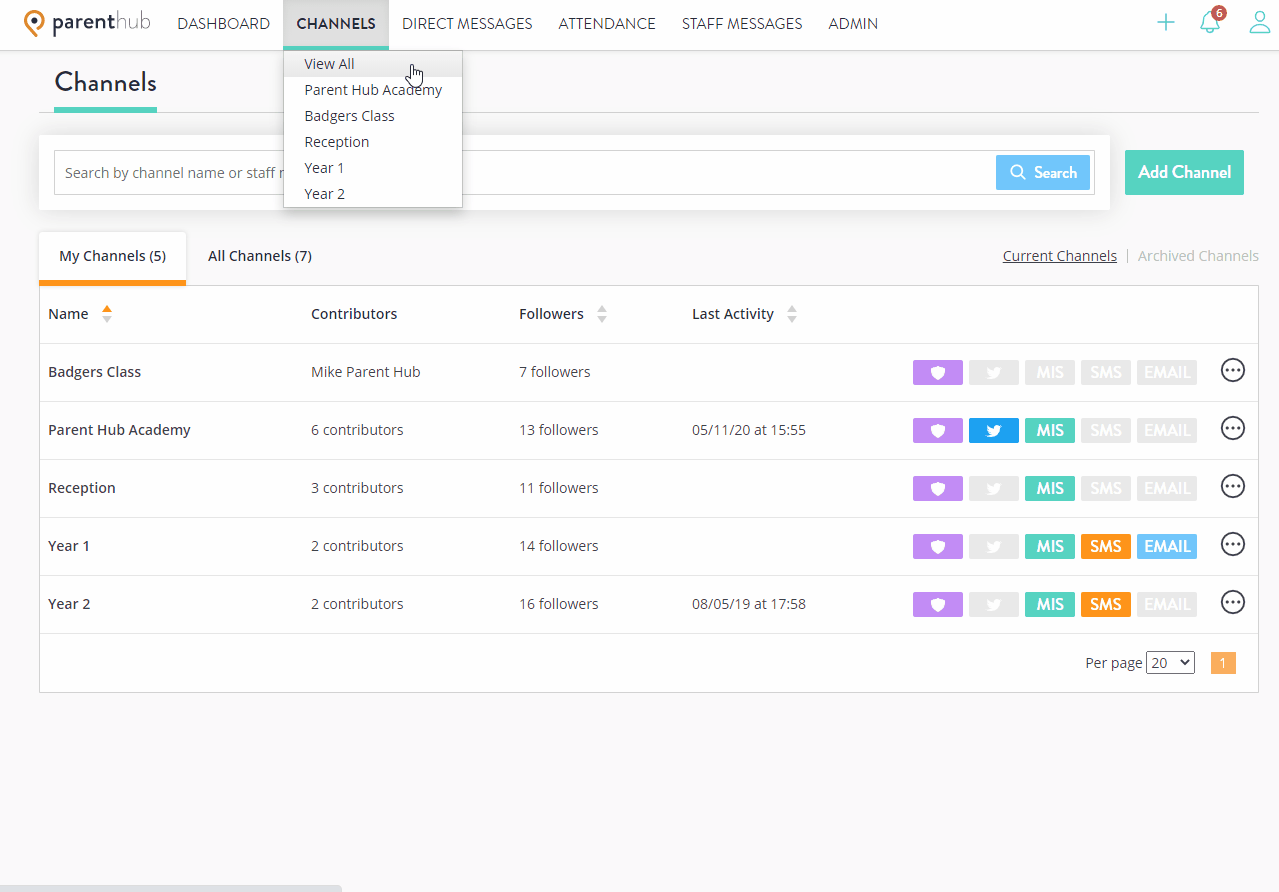 1. Click on the actions button for the relevant Channel and select 'Link to MIS groups'
The action button is a circle containing 3 dots. You'll find it at the far right end of every row in most tables in Parent Hub.
2. Click 'Get Started' and search for the relevant group(s) in your MIS
Once you've clicked 'Get Started' you'll see a new pop-up with a search box and some instructions for how to search for the MIS groups you'd like to link.
Click in the box and start typing the name of the group you'd like to link.
3. Click on the relevant search result to add the groups you want to link
As you select a group from the results, it will fade to grey and an 'ADDED' pill will appear to the right of the row.
You can add as many groups to a Channel as you like - just keep selecting relevant groups from the list of search results, or click back into the search box and type the name of a new group you want to find.
4. Click X to search for more groups
You'll see the added groups listed under the search box. This allows you to check you're happy with the groups you've selected before pressing Continue.
6. Check you've got the correct groups and then click 'Link'
7. Set your sending preferences for this channel
Choose whether to allow this channel to use SMS and/or email to supplement the app and help you reach every parent in the group. You can change these settings at any time again in the future, and your changes take effect instantly.
That's it! From now on, parents with children in the linked groups are automatically added to the Channel. Registered parents will get messages via push notification for free, whilst those not yet on the app will receive a standard text message and/or email, depending on how you've set up your channel.
N.B. You can also link a Channel to an MIS group directly from a Channel screen. Just tap the action button towards the top right of the Channel Menu (to the right of the screen).
Before launching to parents, we recommend you create Channels at least for every year group (and class, depending on the size of your school) and link them to the corresponding groups in your MIS.
Related
How to set up SMS & email for priority 1 contacts